Please call the store at 978-475-0143 to place book orders. Gift cards can be ordered here.
If We Were Villains: A Novel (CD-Audio)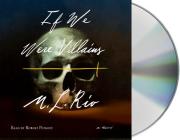 $43.99
Not Currently Available. Cannot Be Ordered.
Description
---
"Much like Donna Tartt's The Secret History, M. L. Rio's sparkling debut is a richly layered story of love, friendship, and obsession...If We Were Villains will keep you riveted through its final, electrifying moments."
--Cynthia D'Aprix Sweeney, New York Times bestselling author of The Nest
Oliver Marks has just served ten years in jail – for a murder he may or may not have committed. On the day he's released, he's greeted by the man who put him in prison. Detective Colborne is retiring, but before he does, he wants to know what really happened a decade ago.
As one of seven young actors studying Shakespeare at an elite arts college, Oliver and his friends play the same roles onstage and off: hero, villain, tyrant, temptress. But when the casting changes, and the secondary characters usurp the stars, the plays spill dangerously over into life, and one of them is found dead. The rest face their greatest acting challenge yet: convincing the police, and themselves, that they are blameless.
Intelligent, thrilling, and richly detailed, If We Were Villains is a captivating story of the enduring power and passion of words.
About the Author
---
M. L. Rio has worked in bookstores and theatres for years, and is currently pursuing her MA in Shakespeare Studies at King's College London. If We Were Villains is her debut novel.

Robert Petkoff has won multiple AudioFile Earphones awards for his acclaimed narrations. He was named Best Voice of Fiction & Classics for his reading of The Evolution of Bruno Littlemore by Benjamin Hale. His other narration credits include Oath of Office by Michael Palmer, Gangster Squad by Paul Lieberman, and books by David Foster Wallace.Petkoff has appeared on Broadway, Off-Broadway, and in theaters across America and Europe.  He has worked in television and film. His theater credits include Lord Evelyn Oakleigh in the Broadway production of Anything Goes, Perchik as part of the Tony-nomianted cast of Fiddler on the Roof, and Hubert Humphrey in the Tony award-winning play All the Way. He has also had numerous roles in television on shows such as Law and Order and Married with Children.