Join us for a very special afternoon with authors of Young Adult fiction, and PA alumnae; Katie Bayerl, and Marianna Baer. The will be signing and discussing their respective books: A Psalm For Lost Girls and The Inconceivable Life of Quinn.
Virgins and saints will take center stage in a reading by young adult authors (and Phillips Academy alumnae) Marianna Baer and Katie Bayerl. The authors' recently released novels explore questions of miracles, belief, and purity—sexual and spiritual—through the dramatic lives of young women. Exploring the virgin pregnancy of an otherwise normal girl (Baer, The Inconceivable Life of Quinn) and the mysterious death of a Massachusetts teen being considered for sainthood (Bayerl, A Psalm for Lost Girls), both novels take on religious mysteries that stir up turmoil in their communities.
Baer's The Inconceivable Life of Quinn, released April 4 by Abrams/Amulet, follows a mysteriously pregnant sixteen-year- old in Brooklyn who finds herself at the center of a media firestorm when religious fanatics gather at her home, believing she's carrying the next messiah. In a starred review, Publishers Weekly described it as: "a suspenseful and thought-provoking novel … [and] a delicate, complicated, and engrossing exploration of the collision between real life and the inexplicable."
This is Baer's second novel for teens; her first novel, Frost (set at a fictionalized Phillips Academy Andover), was described by Booklist as "nuanced blend of psychological suspense and boarding-schooldrama [that] will tingle the spines of plenty of readers."
Bayerl's A Psalm for Lost Girls, released on March 14 by Putnam Books for Young Readers,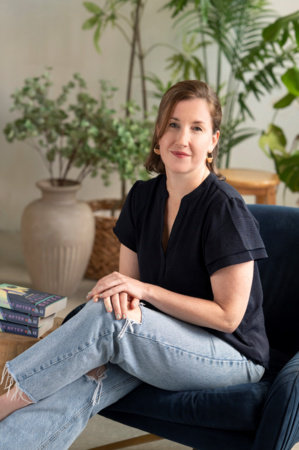 is a contemporary mystery set in fictional New Avon, MA, about an abducted girl who has miraculously been healed, a recently deceased teen who is presumed her savior, and the grieving younger sister who sets outto take down the rumors of sainthood and reclaim her sister's memory as a normal girl. A Psalm for Lost Girls is Bayerl's first novel and has been named a most anticipated spring release by Bustle and Barnes & Noble, a Spring 2017 Amazon Pick, and a March "can't miss" by Boston Magazine. Starred reviews from Publishers Weekly and School Library Journal describe the book as a "gripping story of loss and grace"and a "spectacular debut...[and] a compelling must-have for YA collections."
Baer (PA '88) and Bayerl (PA '96) first met at Vermont College of Fine Arts, where they earned MFAs in writing for children and young adults and discovered they'd attended the same high school years before. Baer was raised in Cambridge, MA and currently lives in Brooklyn, NY. Bayerl is a native of North Reading, MA, and currently lives in Jamaica Plain.
Event date:
Sunday, May 21, 2017 - 2:00pm

$17.99
ISBN: 9780399545252
Availability: Usually Ships in 1-5 Days
Published: G.P. Putnam's Sons Books for Young Readers - March 14th, 2017
I'll Give You the Sun meets True Detective in this brilliant YA debut about saints, sisters, and learning to let go.
---

$20.85
ISBN: 9781419723025
Availability: Usually Ships in 1-5 Days
Published: Amulet Books - April 4th, 2017
Quinn Cutler is sixteen and the daughter of a high-profile Brooklyn politician. She's also pregnant, a crisis made infinitely more shocking by the fact that she has no memory of ever having sex. Before Quinn can solve this deeply troubling mystery, her story becomes public.
---